Rollerblading (and biking) in the Capital District

For rollerbladers (in-line skaters, whatever you wanna call it), there are some good bike paths around the Capital District and beyond that offer pleasant scenery, flat runs or technical work, and a chance to be away from cars and traffic for a while. I've rated these based on my personal experience. Here are descriptions of trails in the Albany / Schenectady area, along with links to other trails I've tried around the country.
These days I mostly bike, so if you find something that's not up to date, just let me know.

Corning Preserve to Watervliet
approx 4.5 miles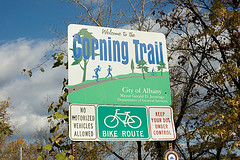 This is a busy stretch of bike path that runs along the Hudson River, with typical river flats scenery on one side and and I-787 on the other. You can hear the highway, but you mostly can't see it. From the Corning Preserve, the trail extends south about a mile onto sidewalk to the "SnowDock," where the Dutch Apple tour boat and the Destroyer Escort Slater are based. There's some changing pavement along the way, and a very slight hill down to the dock parking lot, but it extends the run and not a lot of people do it.The main path is north past the boat launch lot, hugging the river about 4.5 miles to a small parking lot in Watervliet.
Amenities:
At the Corning Preserve, a floating bar, restrooms (sometimes closed without notice), a little playground for kids, picnic tables, lots of people to watch, and a railroad swingbridge that opens every now and then. At the Hudson River Way, where the pedestrian bridge crosses I-787 and opens into an amphitheater, there is a visitors center with bike racks and restrooms. These seem to always be open during daylight hours.
Conditions:
In 2009, the path was repaved, shiny flat and new, from the boat launch through what had been the roughest sections. Now the stuff that was repaved in 2004 seems rougher by comparison. They've even installed some benches along the way. If only somebody'd put a porta-potty at the Watervliet end. Use of the trail seems to have boomed this year, even before the repaving. Safety: usually enough people around to feel safe. Weekends never a problem. Late evenings or after dark, the place empties out.
Extensions:
You can do the Snow Dock run (see above). In Watervliet, you can skate up the access road to Broadway, which is beautifully paved for another half a mile north, little traffic. After that, there's more traffic, but the road is in good shape and it's very nice to bike or blade. In my experience, folks in spandex may occasionally get catcalls along the way.
Also, if you follow the signs and cross I-787, you can pick up the bike path again at Alexander Street in Cohoes, and then take that all the way to Colonie Town Park. The pavement is good throughout.
Bonus:
The state parking lot across Colonie Street (to the right of where it is split by a concrete barrier, go around the curve and then left into the lot) is smooth, wide, and banked. Not a skate park, but a good place to play around on weekends when there are no cars.
Directions:
From I-787 North, take Colonie St. exit, bear right to Corning Preserve parking, or go under the railroad bridge to the boat launch parking lot. From I-787 South, take the Colonie Street exit, pull into the parking lot to the left under the highway; this is the boat launch lot. From downtown Albany, head south on Broadway past the SUNY headquarters, head under the highway (where the overpass says "Hudson Riverfront") and turn left, then follow the road to the parking lots on the right.
Bike Path, Niskayuna
9 miles and more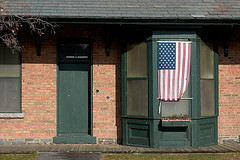 The Niskayuna stretch of the Mohawk River Bike Path is one of the nicest places to blade, anywhere. Starting at what is variously called Lions Park, Lyons Park, or, most often, the Niskayuna Train Station, you have two choices of direction. You can skate east, a very pleasant little stretch that in 4.5 miles will take you to Colonie Town Park. It requires one very challenging downhill, a few street crossings and some skating on (low-traffic) roads if you want to get to the Town Park, but it takes you under the Twin Bridges of the Northway, which is kinda cool. If you don't want to go that far, you can still get about 2 miles out before having to deal with the hill and streets.
The other option is to head west, along some beautiful river scenery. You can go about 3.5 miles on some very flat, well-maintained trail, with a potential side trip to Erie Canal Lock 7. There is one road crossing, which should be taken carefully because it's on a steep little downhill on the trail, and you can't really see the traffic coming. If you follow that road to the river, you'll be at the lower section of Lock 7, where there are porta-potties and soda machines, and sometimes a bait truck that sells snacks. If you continue on the bike path, there will be another turnoff that will let you go to the upper section of the Lock. After 3.5 miles, you'll be faced with the Landfill Hill. Those who climb it up to Blatnick Park can go on for many more miles -- the path winds its way along River Road (crossing sometimes-busy entrances for GE and Knolls Atomic Power Labs), then takes a severe dip down to Aqueduct. You're well warned of the downhill, and will want to walk it.
From Aqueduct, after a busy road crossing, a much-less used section of the trail continues all the way into downtown Schenectady, where you'll have to negotiate city streets if you want to make the connection to the continuation of the bike path at Schenectady County Community College.
Amenities:
Ample parking and excellent restrooms at the Train Station, in addition to picnic areas. There are several other small parking areas along River Road and at Lock 7. The Train Station is a carry-in, carry-out park.
Conditions:
Both the Colonie and Niskayuna sections of the bike path are very well-maintained. The Schenectady stretch from Aqueduct to downtown is now in fairly rough shape, but still skateable.
Extensions:
Honestly, you can go for miles and miles. From Colonie Town Park, you can connect up with the Cohoes section of the Hudson-Mohawk Bike Path, and with considerable street work make your way back to Watervliet and from there the Corning Preserve. The urban stretches are unlovely and the pavement's not smooth, but I've done it many times. From the terminus of the path at Nott Street in Schenectady, just a couple of blocks above Erie Boulevard, you can skate into the Stockade, even catch a little tiny path in Riverfront Park, and then make your way to the tricky crossing of Route 5 at the foot of the bridge if you want to get to the community college.
Directions:
From Route 7 in Niskayuna, turn north onto Rosendale Road and follow its twists downhill and to the left through a fairly dangerous little intersection. Once through, the park is marked by a very faded bike path sign a few hundred feet up on the right. If you prefer to start at Lock 7, just continue on (this is River Road) and watch for signs for Lock 7.
Schenectady to Rotterdam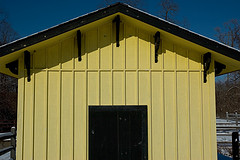 This is lovely, easy, riverside skating. It can get a little sketchy in spots in the wet or leafy seasons, but otherwise it's an easy and enjoyable skate that includes a view of a buried old canal lock, stretches of wetland, and the Mohawk River. Acres of free weekend parking at Schenectady County Community College (SCCC). The path starts there on the west end of the facilities, next to the soccer fields. Then from there it's several miles along the river, past locks 8 and 9 to the park in Rotterdam, where there is also parking and an outhouse, and a general store across the street. It's right on Route 5S, not far west of the new bridge to Scotia. The path goes on less than a mile from there before it dead-ends at train tracks.
Amenities:
Plenty of free parking at SCCC on weekends; when classes are in session, parking can be tricky. There are no restrooms at the SCCC end, though there is usually a porta-potty at Lock 8, and there is also one in Kiwanis Park in Rotterdam.
Conditions:
Generally well-kept. Not as busy as the Niskayuna or Corning Preserve sections of the bike path. Some areas are heavily forested and stay wet after a rain.
Extensions:
From the Rotterdam end, you can also skate across the river on the bridge to Scotia, which leads to more parking but no more bike path, though Route 5 has wide shoulders and is perfectly bladeable if you don't mind 55mph traffic next to you. You can follow Route 5 all the way back to SCCC.
Directions:
Access the SCCC parking lots from Washington Avenue in Schenectady, or by following the signs that lead off the Western Gateway bridge in either direction. Park back by the soccer fields.
Glens Falls to Lake George
14 miles
The Warren County bikeway is a fabulous trail that runs about 14 miles from the middle of Glens Falls to Lake George. There are areas where the dedicated paths are connected by surface streets, but they're relatively easy to skate if you're unafraid of traffic. To shorten the distance, start at the Country Club Road parking lot (Queensbury, Exit 19 of I-87) and follow the path out to the main roads, around a golf course and up a slightly rough side road, and then you're back on dedicated path most of the way to Lake George. Bike path maps are available here; online quality is iffy, but call the phone number and they'll send one to you. This is an old Adirondack railbed, and the scenery is beautiful. The Lake George end empties out right at the Million Dollar Beach, and you can skate up the street for ice cream.
Other places I've bladed
New York State
California
Places that aren't New York or California
In Washington, DC (our nation's Capital, ya know), you can skate the Mount Vernon trail from National Airport to the Mall and beyond. (Airport entrance to the bike path is on the lower level of the parking garage, northern end. REAL hard to find.) You can go the other way into Alexandria, too. More info here.
St. Louis, MO — There's minimal skating around the Arch and the immediate downtown area, but a good set of paths and roads in Forest Park, home of the famed St. Louis Zoo.
The Charles River trail in Cambridge and Boston, Massachusetts, is extremely popular. Extremely. On weekends, they close down some of the roads in Cambridge for pedestrian/bike/blade use.
There are NO blading or bike paths in downtown Charleston, South Carolina, but the downtown/waterfront area is a very pretty place to skate anyway.
You probably think Austin, Texas is flat and dry, right? If Lance Armstrong says Austin is no good for biking, it definitely sucks for blading. But, I bagged another state capital!
Burlington, Vermont, is blessed with a waterfront bike trail that connects downtown to local beaches on Lake Champlain, and even has bike ferries (soon, it is promised, to be replaced by bridges) to connect the trail across the Winooski river and beyond. Fabulous trail for skating, and there's a skate park as well.
There aren't blading paths per se in Chincoteague, Virginia, but you shouldn't let that stop you.
A couple of years ago, my first chance to skate in the spring was in scenic Fredericton, New Brunswick. In March. With melting snow. And sand everywhere. Plus I got hassled by some local broomheads for wearing tights. Still, if you're trying to rack up state and provincial capitals, you've gotta count it....
Montreal's bike paths can kick your bike path's ass! The Lachine Canal trail stretches for kilometers . . . start in Vieux Montreal and skate out to the Lachine. Make the side trip to Ile Notre Dame and around Les Floralies. Then go back up the Lachine and step off the trail at the Atwater Market for fresh fruit and a drink. Then go on or go back. Unbelievably perfect urban skating experience that mixes old city, current industry, historical canal and beautiful natural resources. Plus some serious bike racers, and the chicks all speak French.
Looking elsewhere?
Here's how to find a trail near you: Traillink even lets you search for in-line skating trails!
Need help skating?
For instruction, more guides, and skating events anywhere in the country, look at International Inline Skating Association.
Return to previous page